Don't Look Now
Things We Wish We Hadn't Seen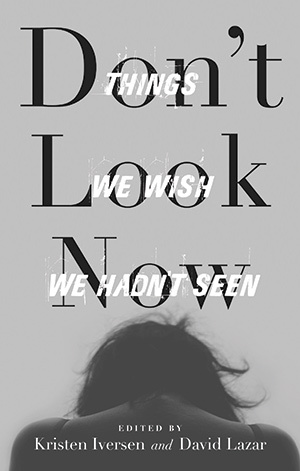 "How does the heart bear unbidden shock? What are the rules of engagement with ferocious memories? These gorgeous essays perform acts of homage, bravery, and forgiveness, show what can be made of the searing left by life-altering experiences, and point us toward a deeper understanding of both vulnerability and the capacity to rebuild at the blast-site." — Lia Purpura
FORTHCOMING Fall 2020
Would that our memories were self-selecting. But often what we remember most, and most vividly, are those moments that caught us unawares: the things we wish we hadn't seen and have never been able to shake. This group of prominent American writers tries to come to grips with obsessive memory, the uncanny, and the bad dreams that accompany the moments in our lives when we wish we'd looked away, the places we wish we'd never been, and the scenes we wish we'd never stumbled upon.
Featuring essays by Jericho Parms, XU XI, Jerald Walker, José Orduña, Kristen Iversen, Nicole Walker, Mary Cappello, Lina Ferreira, Colleen O'Connor, Sonya Huber, Paul Crenshaw, Alyce Miller, Patrick Madden, Amelia María de la Luz Montes, Yalie Kamara, Emily Heiden, Lee Martin, and David Lazar, this collection bares all. The authors invite readers into a dream that resurrects a departed mother each night, only to lose her again each morning upon waking; the post-mortem newspaper photos of a former student; kaleidoscope childhood memories of the mundane mixed up together with the traumatic; an unplanned pregnancy; a bullfight and a spouse's mortality; a teen witnessing the suicide of her father; a parent trying to shield his children from witnessing a violent death. What these writers are after, though, is not the melancholic/grotesque/violent moment itself, but the process of remembering—and trying to forget. They examine the way these memories take hold, resurface, and never leave, and what it means for a life lived long after these moments have passed. These scenes, slowly enfolding us like bad dreams or flying by like trains on elevated platforms, demand we reach some kind of accommodation with them—make peace or make sense or make amends. The one thing they insist with certainty is this: they cannot—will not—be unseen.

"A typewriter tattoo, the body bent in prayer, the hazy outline on an ultrasound screen—these are some of the stark and humbling and heartbreaking images shared in an anthology of voices so rich and varied—even more than the moments these writers can't unsee—this haunting collection of essays will stay with you, too." — Sonja Livingston, author of Ghostbread
"Things We Wish We Hadn't Seen merits its title — a series of scarifying essays on sights, scenes, and memories we might have rather missed. But this not-to-be-missed collection becomes its own bright antidote and, for the reader, a gift." — Nicholas Delbanco's most recent work of non-fiction is Why Writing Matters.
Author Bios
Kristen Iversen is the author, most recently, of Full Body Burden: Growing Up in the Nuclear Shadow of Rocky Flats. Her essays and stories have appeared in the New York Times, The Nation, Reader's Digest, Fourth Genre, and elsewhere. Iversen is Professor of Creative Writing at the University of Cincinnati and serves as the Literary Nonfiction editor of the Cincinnati Review.
David Lazar is the author, most recently, of I'll Be Your Mirror: Essays and Aphorisms. He is Professor of Creative Writing at Columbia College Chicago and a former Guggenheim Fellow in Nonfiction. Lazar is the founding editor of the literary magazine Hotel Amerika and series editor, with Patrick Madden, of 21st Century Essays at Mad Creek Books.